Inspecting Your Roof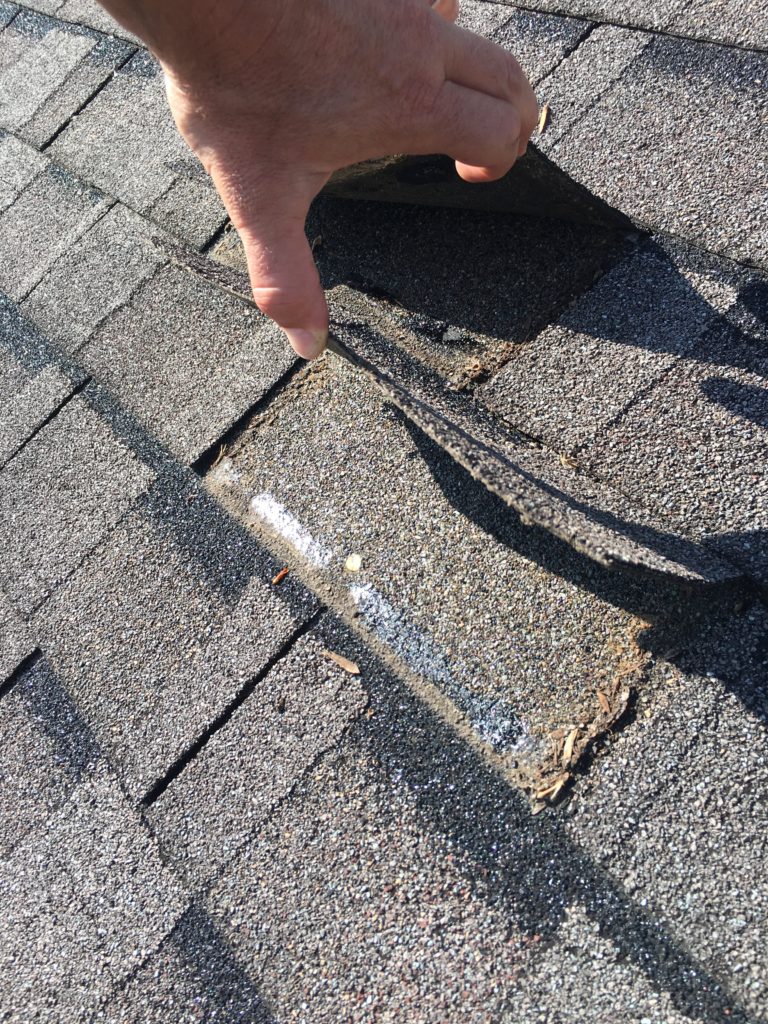 If you live in northeast Georgia then inspecting your roof is very important. Roofs in Hartwell, Lavonia, Toccoa, and all over northeast Georgia are exposed to extreme weather-related changes. In other words, they take a beating! Eventually, most roofs tend to go through their life cycle sooner than you would be led to believe by some manufacturers (usually 15 to 20 years for most asphalt shingles) therefore, it's a good idea to inspect your roof or call a roofing professional at least once a year, especially right after a major hail or wind storm.
Although you can do a minor inspection from the ground with binoculars, the most thorough way is to inspect the roof by walking it, or at the very least, climbing a ladder to get a closer look at the condition of the shingles. Although we recommend you call a reliable roofer to do this for safety reasons, some folks prefer to do it themselves. Some things that you can do from the ground is to check for shingle granules that have been expelled through the downspouts, or if you can access a ladder, check for granules in the gutters. Also, check for any rot at the soffits and fascia boards. If you do use a ladder, please be extremely careful and take the proper safety precautions!
Things To look For When Inspecting Your Roof:
If you are able to walk the roof here are some specific things to be looking for:
1. Inspect all flashings. This includes wall flashing, the chimney flashing, slight flashing, and the flashing boots around the plumbing vents and heat stacks. If their appears to be damage, you need to correct the problems right away before they lead to much bigger issues such as rotten roof decking and even damage to the interior of your home. If you are not comfortable doing the repairs yourself you will need to call a local professional roofing contractor to have it done properly. By the way, throwing a bunch of tar on the roof is not the way to correct roof issues.
2. Inspect the condition of the shingles. Asphalt roofing shingles have a granular surface which is the protective surface of the shingle.
As the asphalt ages, it becomes dry and brittle, which causes the granules to come loose over time. You may notice a fair amount of these granules in your gutters if your roof is older. Some indicators your roof may be getting near replacement time are: loss of granules, curling or buckling of shingles, and loose or missing shingles.
  3.    Don't forget the attic. Check the roof deck from below for any water stains. Just because water may not have made it into the living areas of the house does not mean all is well in the attic. Also cut all the lights in the attic to see if there is any daylight coming through anywhere. If you can, it is probable leak area.
Once again, if you are not comfortable or capable of climbing ladders or inspecting  areas like your attic, please call a trusted roofing contractor to do the inspection for you. Here at 1stroofingpros.com we will perform inspections for free. We will provide photos so you can see the condition of your roof and if it needs any attention. A thorough roof inspection can save you a bundle in the long run. If your roof is not in bad shape, some basic maintenance can go a long way in getting more life out of your existing roof. Call or fill out our request form for a free roof inspection from a trusted local Hartwell roofing company.