One of the first things we will do when you call on us is to perform thorough roof inspections. There are specific things they are looking for so don't hesitate to point out any issues you know of as well. The checklist below is a sample of a comprehensive inspection: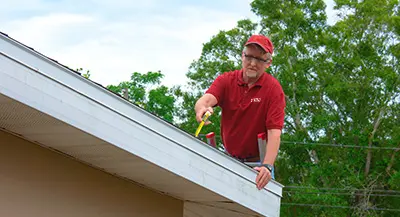 Broken or missing shingles
Shingles that have begun to buckle
Storm, hail, or wind damage
Any evidence of past work that looks unprofessional
Rotting or molded fascia
Signs inside your home and attic of water damage
Leaks around skylights or windows
Gutters that need to be repaired or replaced
Trees that come to close to your house
Excess debris on the roof
Signs of mold, algae or other fungus on or around the roof
Our expert roofers will take note of any problems they find and make sure you understand all your options for correcting the issues, as well as the cost of the job. If we feel you need to replace your roofing system altogether, we will work with you to get the job done at a price you can afford.
We will listen to all your questions and carefully explain how we came to our decision and why. A little planning on the front end will help this process to go smoothly.
We offer a yearly inspection with all our roofing services. We know it's costly to repair or replace your roof, so we want to do all we can to help prevent a major expense down the road. As a certified roofing contractor for Certainteed products we can offer no additional charge extended warranties other roofing companies just can't match!
Bear in mind that most warranties will cover your roof for only 5 full years before they start prorating. Not only that, they only cover the material not the labor. We offer a full lifetime warranty (labor & material) for the life of the roof with the Certainteed Sure Start Plus System!