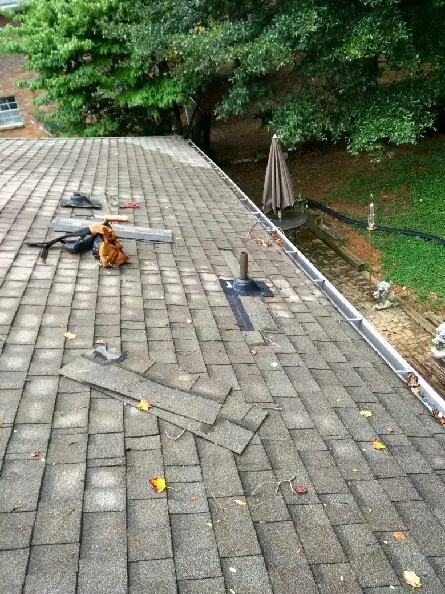 Sometimes a complete roof replacement is just not necessary and a roof repair or some general roof maintenance will help prolong the life of the roof and save you some money for down the road. The best way to prevent problems or having to replace your roof before its time is having an experienced licensed and insured local roofer inspect the roof. It is always best to have a professional do the inspection from on top of the roof as it is not recommended for homeowners to be on their roofs…it can be quite dangerous.
We have the tools and the know-how to inspect your roof safely. This is not something that a homeowner should tackle on their own. it could lead to serious injury or worse!
If you do know you have a current roof leak it is best to not put off the roof repair any longer than possible. Roof leaks can and will lead to more damage over time which means more money spent on your end. Higher roof repair costs will be involved as well as any interior damage that will need to be repaired.
Also, there is a high potential for mold growth as well as the attraction of insects, such as termites and ants. To have the mold removed from your home can be very expensive! If you even suspect your roof may be leaking call a licensed, insured dependable local roofing contractor right away. A roof repair caught early is much less taxing on the wallet then waiting until too much damage has been done.
Roof leaks are serious and need to be addressed as soon as possible. If you need a roof repair in northeast Georgia, call us or fill out our contact form for a free roof inspection.  
Contact us at Grace Roofing with any questions on roof repairs.